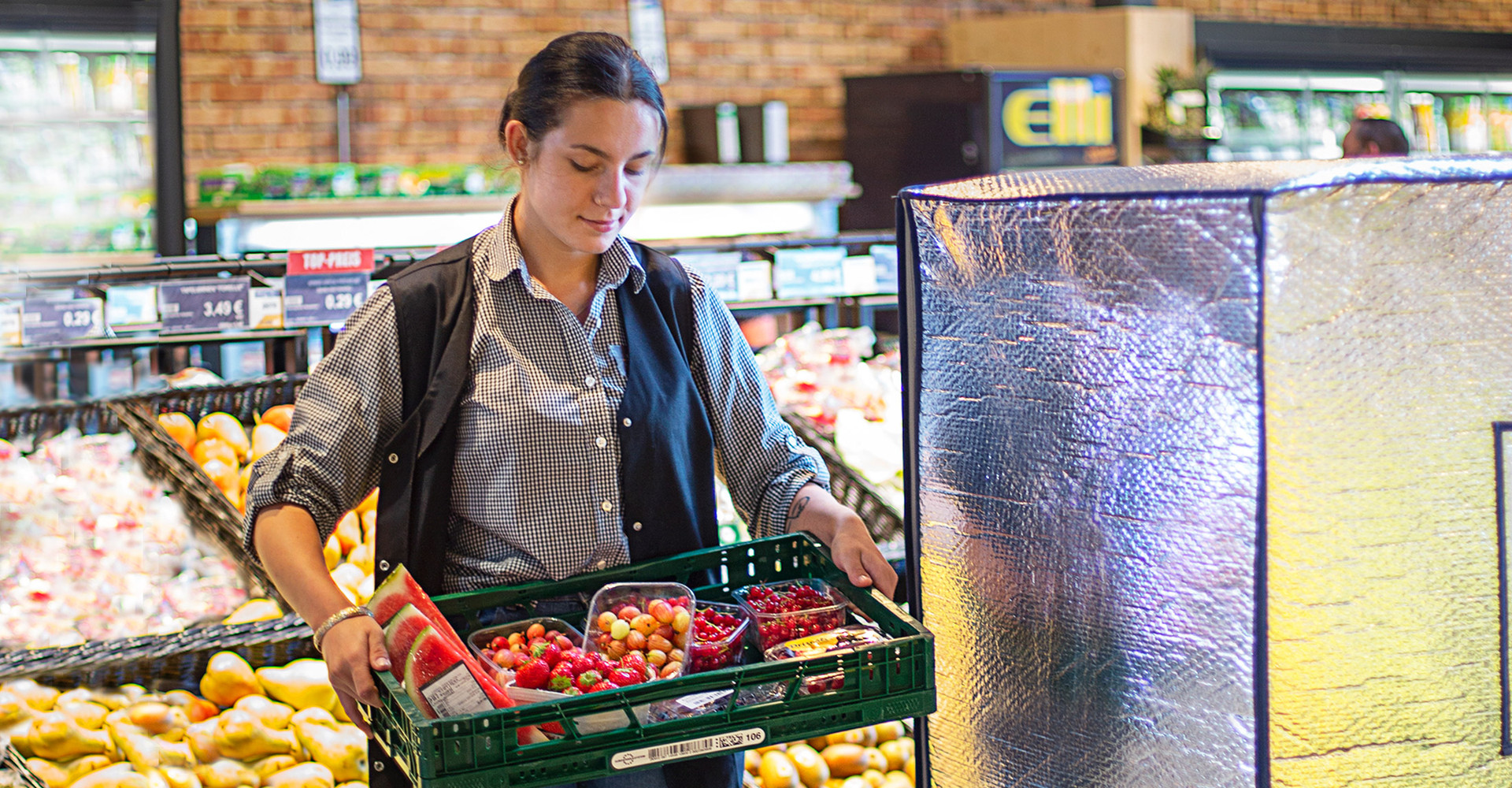 (en) Lebensmittelindustrie
protective covers, thermal protection, hygiene protection
Food industry
Cooling, keeping warm or maintaining cleanliness – as diverse as the requirements in food handling are, so diverse are the characteristics and features of our customized protective covers for equipment and room dividers. Sophisticated details guarantee clever additional benefits.
covers for roll containers
Food markets and trade
Zippers
Two parallel zippers on the front allow you to comfortably load and unload roll containers. The sliders and zippers used are strong, of high quality and durable.
Insulated
Thanks to the thermally insulating cover, the roll container can stand in front of the supermarket for some time, without fruit and vegetables getting spoiled. Even wearing gloves, the large zippers can be easily operated.
Transparent pocket
A stitched-on transparent pocket can hold delivery documents and opens at the top. Upon request, we can equip the thermal cover with zippers on the front and back.
Quality
The high-quality binding tape made of nubuck synthetic leather, stitched with an equally durable seam protects the cover from rapid wear. Manufacturing and material are designed for intensive use.
(en) Emotional Großküchentechnik
dust covers for plate warmers
Commercial kitchen equipment
Saves energy
Thermally insulating, robust and foldable: Under the covering, you can warm up plates in an energy-conscious way and keep them warm for a longer period of time. The incorporated metal eyelets prevent heat build-up.
Quality
Details distinguish products and the sum of all the details make the difference in quality. This is true for the protected product – as well as for its cover. We pay attention to quality in every aspect, especially workmanship.
Protection
Before serving, the protective cover not only keeps plates warm, but also offers protection during longer storage and on-hold periods, as well as against external factors. The stitched-on transparent pocket can be used for operating instructions.
Perfectly designed
It doesn't matter whether your products need thermal, dust or impact protection, our protective covers are developed and delivered with the desired features, in all forms and sizes exactly according to your requirements.
(en) Emotional Lebensmittelproduktion
hygienic protection for industrial spaces
Food industry
Velcro fastening
Use our hall dividers for increased hygiene: Large halls can be subdivided quickly and securely by connecting the individual elements of our extra-large tarpaulins via the robust, 50mm-wide Velcro fastening strips.
Lightweight
The PVC-free material is ideally suited for cold surrounding temperatures – without being heavy. An area measuring 9 x 42m weighs less than 65 kilograms.
Textile insert
The top and bottom wide hems of the room dividers are reinforced with textile inserts. While strong, clip-on eyelets made of plastic are incorporated at the top, the bottom hem can be used for weights.
Tailor-made
We manufacture the hall dividers and complete customization to your hall on site. That's how we make sure that they fulfill their intended task with the greatest benefit for you and your production team.